Dredging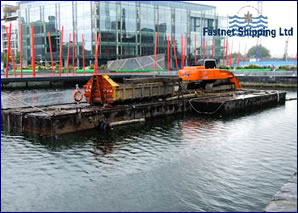 We have a wide ranging experience in the dredging industry ranging from capital and maintenance dredging closer to home to land reclamation in the Arabian Gulf.We presently operate a varied fleet of dredging support vessels which can all be chartered to support your projects needs.
Our present equipment list includes but is not limited to
Bed Levelling tugs from 500hp +
Ploughs 6m3 to 20m3
Grading Ploughs
Multicat Dredge Helpers
Modular Pontoons
Spud barges
Crane Barges
Jackup Barges
As well as offering a chartering service to our clients we also directly carry out plough dredging / bed levelling. Our primary vessels to support our bed levelling activities include our 22m Multicat Fastnet Sound with her large plough, our single screw tug GW214 and our voith schneider tugs "Agile" & "Adept" which offer our clients unmatchable manoeuvrability and production when compared to conventional screw bed levelling units. Also due to their size and method of propulsion they are ideally suited to dredging in marinas and at berths where access may be very tight or restricted to and which access to may also be further limited due to the flow of tide.
All charters include fully certified, competent and experienced skippers and crew.
For further details on our vessels and their capabilities and the services we offer please contact our office to discuss your project requirements and to obtain a competitive quote.