Site Investigation Support & Vessel Chartering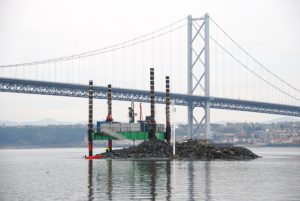 Fastnet Shipping has been chartering vessels and providing operational support services for overwater/near water site investigation projects and survey projects for more than 30 years.
Our expertise spans all forms of site investigation platforms from jack-up barges (Both Monohull and Modular) to floating barges (Both Monohull and Modular).
We can offer our clients fully inclusive packages inclusive of safety vessels, towage,onsite logistics and marine co-ordination.
Owing to the ease of transport of our modular units and our dedicated logistics partners we can offer a true worldwide service to our clients.
Some of our most notable locations where we have recently operated include The Falkland Islands, Belize, Morocco and the United Arab Emirates.
Additionally to our fleet of Jackup's and Pontoons we can provide our clients with Multicats and Tugs all with lifting facilities whcih are ideally suited as vibrocoring or grab sampling platforms.
All charters include fully certified, competent and experienced skippers and crew.
For further details on our vessels and their capabilities and the services we offer please contact our office to discuss your project requirements and to obtain a competitive quote.