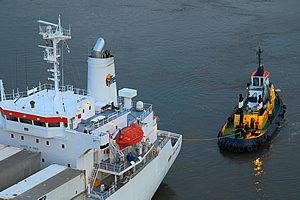 Fastnet Shipping Limited is a privately owned marine plant hire and marine services company based both in Ireland and the UK operating throughout Europe / EMEA & the Nordic Regions.
We have over 50 Years' experience of both operating and chartering vessels and marine plant to various clients,state bodies and coroprate entities. Our broad wealth of knowledge within the business includes Dredging, Harbour and Coastal towage , Crew Transfers, Windfarm Support, Offshore Logistics Support, Site Investigation Support and the operation and charter of various other vessels and marine plant.
We have an extensive portfolio of tugs, pontoons, barges, windfarm service vessels, dredgers, multicats,combifloats ,unifloats and various marine plant for charter,most of which can be tailored to suit each client's bespoke and individual project requirements.
We operate the largest private fleet of tugs within Ireland and provide over 99.5% of all required towage within Waterford Harbour and the South East of Ireland. We presently can offer six different tugs ranging in size from 5 ton to 45 ton bollard pull.
In 2010 we entered the offshore windfarm support/turbine transfer market with two bespoke 14m multi-purpose vessels, Fastnet Swift and Fastnet Tern. The success of these vessels prompted the addition of two more 14m craft in 2012, Fastnet Skua and Fastnet Puffin and the 22m BV Classed Fastnet Rock in 2013.  This fleet has been operated by Fastnet and to date we have operated on the following offshore windfarm projects at Barrow, Robin Rigg, Sheringham Shoal, Greater Gabbard, Galloper, London Array, Lincs Offshore, Rhyl Flats, Thornton Bank ,Northwind, North Hoyle,Arklow Banks, Kish Bray and Codling. All our vessels feature moonpools and can double as hydro survey vessels & dive support vessels.
We are the largest Independent operator of Jack up barges both modular and mono hull in Ireland and we are also the only operator of Voith Schneider bed levelling tugs in Ireland which offers our clients unrivalled manoeuvrability and very high production rates when compared to that of other conventional units..
At Fastnet Shipping we are always interested and open to investing in new and upcoming opportunities within the industry so that we can always offer our client the best possible service at the forefront of the industry, so whatever your need or charter requirement please don't hesitate to contact us for a very cost competitive quote from bare boat charter to full charter packages inclusive of any ancillary requirements you may need.