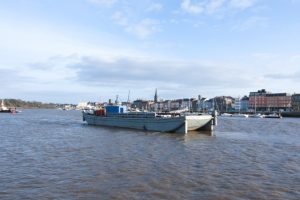 Fastnet Shipping currently operate both modular and monohull barges varying in payload capacity from 5 tons to 550 tons.
Some of the capabilities of our barges include but are not limited to
• Site Investigation Support
• Marine & Overwater Construction Support
• Crane Platforms
• Dive Platforms
• Dredging Support
• Exhibition Platforms
• Temporary Berths
Owing to the flexibility of our modular fleet they can be easily sized and configured to each client's specific needs
Our Modular/Road Transportable jack up barges are based on the Combifloat & Unifloat Systems which can be transported worldwide with speed and ease.
For further details on our barges and their capabilities please click on the vessel you wish to view to your left hand side, further more please contact our office to discuss your project requirements and to obtain a competitive quote.