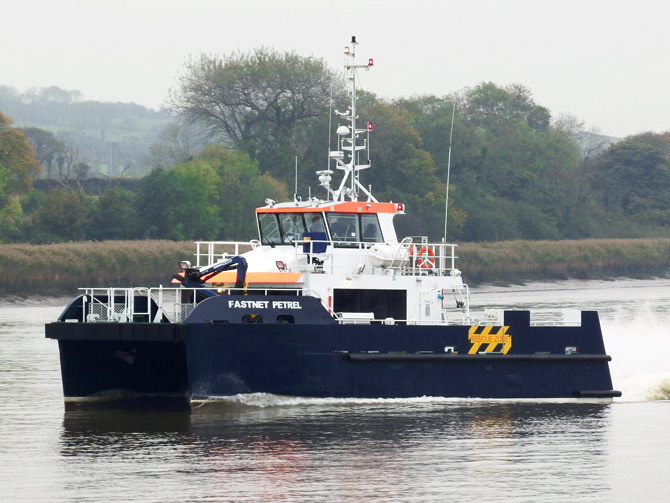 MV "Fastnet Petrel"
Flag / Certification
Flag: UK
Trading Area: 150 Nautical Miles
Class Society: DNV
Class Ship Type: Special Service – Fast Crew Boat
Class Notations: DNV + 1A1 HSLC R1 Wind Farm Service 1
Workboat Code: UK MCA SCV Category 1
German Cert of Equivalence Gleichwertigkeitsbescheinigung"
Propulsion
Maximum Speed: 25 Knots
Power Output: 1130Kw / 1515 hp
Propulsion: Twin Fixed Pitch Propellers
Main Engines: Scania – D116 42M
Gearboxes: Twin Disc MGX-5135 RV
Aux Generators Cummins 19MDKBV 19KW
Other
Fwd deck Crane Palfinger 4501, 4t/m 280kg @ 11m
Fitted for A Frame
Deck Strength 3t/m2
Proven Turbine / Nose Docking Fender
12 Passenger Suspension Seats in a large spacious cabin With mess facilities toilet and shower.
Wet Room – Technician Changing Area
Bridge Equipment
Radar 1: Koden MDC 2240 48 NM, 4Kw.
Radar 2: Koden MDC921, 24 NM, 2kW.
GPS : Koden KGP913MKII GPS
Chartplotter: Seiwa Explorer
Echo Sounder: Koden Model CVS-126
SAR finder: Sarcom 1003 MKII MoB Locating system.
Satellite Compass: Koden KGC-1 KGC-GPS Compass
Magnetic Compass Plastimo offshore 135
AIS: Koden KAT-100 IMO Approved Class A
Autopilot: Coursemaster CM880AC
Fixed VHF 1: Icom IC-M504
Fixed VHF 2: Icom IC-M422
MF/HF SSB: Icom IC-M801 radio with Class A DSC
Portable VHF: Icom IC-M36 VHF ( X 2)
Navtex: Furuno
Weatherstation: Airmar Weather Station, Model PB200
Loudhailer: Plastimo
Data Gateway: Globesurfer III 3G/GSM
Other: DVB Terrestrial TV Antenna.
Tank Capacities
Fresh Water Capacity: 800 litres
Black Water 215 litres
Fuel: 5000 litres