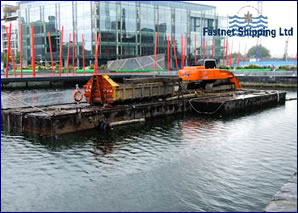 Unifloats
Principal Dimensions
Length 5.2m
Width 2.4m
Depth 1.2m
Unladen weight c3500 kg
(Single Unit Sizes)
Layout
Barge dimensions can be any combination of above 12 Available units as per customer spec and requirements once it forms a platform which can meet minimum floating stability criteria.
Barge assembly layout can be altered to suit customers' requirements.
Further Features
Hydraulic Winches, Warp and Delta Flipper Anchors can be supplied as required.
Ideally suited to Site investigations, piling, crane work and drilling projects.
Vessels are fully road transportable and are supplied with full complement of required navigational and safety equipment as required.
Crew transfer boats and Tugs can be supplied on request.
Gallery