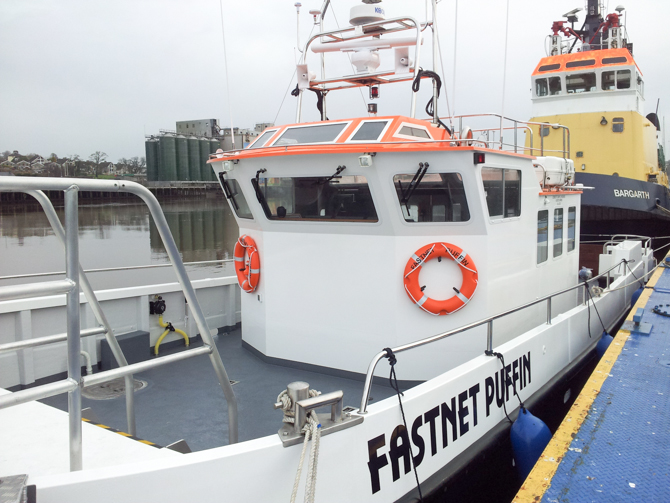 MV "Fastnet Puffin"
Principal Dimensions
LOA: 14.0m
Beam: 5.0m
Draft: 1.2m
Coding / Classification / Certification
MCA Cat 2 ( 12+2 60 Miles)
Irish P5
Hull Lloyds SSC
Propulsion
2 X Cummins QSC 8.3 500hp
2 x Fixed Pitch 5 Blade Propellors
Auxiliaries
Fisher Panda P6500 Marine Generator
3.5kw Combi Inverter
Bridge Equipment
Koden 2560BBF Black Box with 6kW open array
Koden AIS-120 AIS interface BB Radar
Koden MDC-921 with 17" 2kW radome.
Koden KAT100 Class A AIS transceiver c/w GPS antenna.
Koden KGC-1 GPS Compass
1 Koden ECI1 GPS Compass Indicator for KGC-1
1 Koden CVS-128 Echo sounder
3 x Icom IC-M505 DSC /VHF Radio c/w fist mikes
Lorenz Magnum Pro C-Map chart controller
Furuno NX-300 Navtex with antenna
Raymarine ST60+ wind system with Rotavecta wind transducer
Other Equipment
Sea Marshall SAR finder
Fully integrated vessel CCTV System
Other Particulars
Large Cargo Area Forward
Interchangeable turbine docking fender
Toilet, Shower, Full mess area with cooking facilities.
Gas Suspension Seating for up to 12 Passengers which can be removed and reconfigured to suit survey work and installation of survey equipment.
Gallery