Dive Support Services and Vessels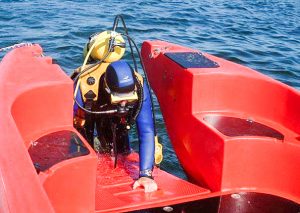 Fastnet Shipping has been chartering vessels and providing vessels and operational support services for divers and diving contractors for more than 30 years. Contracts to date include TV productions, Archelogical Exploration and data collection, Scientific Research, Underwater Inspections, Underwater Construction and Repairs,Wreck Removal and Renewable Energy Support.
Our present fleet of dive support vessels and plant includes
Inshore Ribs and Dorys
Catamarans with integrated dive lifts
Multicats with 4 point mooring and cranes
Jackup Barges and Pontoons for a more stable platform and to support large arrays of support equipment.
All charters include fully certified, competent and experienced skippers and crew.
For a full listing of the vessels we have to offer visit the "Fleet" section of our website and for further details on our vessels and their capabilities and the services we offer please contact our office to discuss your project requirements and to obtain a competitive quote.