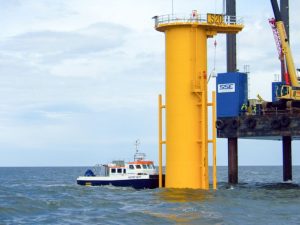 Fastnet Shipping Limited operate a young and specialised fleet of both Classed and Coded Windfarm Service and Crew Transfer Vessels ranging in size from 14m to 22m.
On-board Passenger comfort is a priority for Fastnet Shipping hence all vessels are equipped with suspension seats, galley facilities, televisions and DVD players as a minimum standard. All vessels in our current fleet of WFSVs have been specifically designed and built to work in the sector and are also suited to carrying out both Survey and Dive roles owing to their bespoke design and build specification.
All our vessels have cargo carrying capabilities and can carry a minimum of 3000kgs additionally some vessels also provide offshore refuelling services.
In addition to the vessels roles as WFSV's all our vessels can also be utilised for
• Hydrographic Surveys.
• Bird and mammal surveys
• Diving safety boats
• Civil engineering support
• Crew and personnel transfer.
All charters include fully certified, competent and experienced skippers and crew.
For further details on our vessels and their capabilities please click on the vessel you wish to view to your left hand side, further more please contact our office to discuss your project requirements and to obtain a competitive quote.