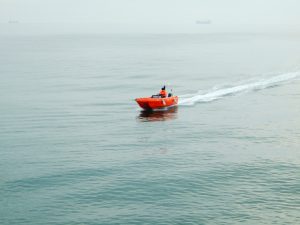 Fastnet Shipping presently operate a number of safety and passenger vessels with passenger capacities ranging from 3 passengers to 27 passengers.
Our smaller shallow draft "Pioner" type vessels are the perfect for dive support operations or for safety standby operations on sites that require shallower access craft.
All our smaller vessels are road transportable and can be easily mobilised at short notice
In addition to safety standby duties our vessels can also be utilised for
• Near shore & Shallow water surveys.
• Bird and mammal surveys
• Diving safety boats
• Civil engineering support
• Crew and personnel transfer.
All charters include fully certified, competent and experienced skippers and crew.
In Addition to the vessels listed on within this section Fastnet Shipping can also provide larger capacity vessels suited to offshore duties.
For further details on our vessels and their capabilities please click on the vessel you wish to view to your left hand side, further more please contact our office to discuss your project requirements and to obtain a competitive quote.