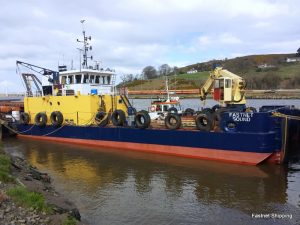 Fastnet Shipping Limited is delighted to announce the latest addition to the Fastnet Shipping the multipurpose 27.05m x 10.8m multicat, Fastnet Sound.
Fastnet Sound is a 26 x 11m multicat which is ideally suited to the dredging, aquaculture and marine construction industries.
Fastnet Sound can carry up to 216m3 of fuel and has a full deck cargo and is ideally suited for offshore construction works, equipment deployment, and retrieval.
Fastnet Sound also has an integrated 4-point mooring system that is separate from her main winches / capstans, which combined with her large deck crane, makes her an ideal work or dive platform.
Fastnet Sound also features a 110t/m crane, and is also fitted with a large "A" frame and 11m wide plough for dredging.
Some of the main roles suited to the vessel include but are not limited to
• Dive Support
• Dredging Support
• Aquaculture Support
• Marine Construction Support
• Site Investigations and Vibracoring
• Offshore Refuelling
• Civil engineering support
• Crew and personnel transfer.
For further details on our vessels and their capabilities please click on the vessel you wish to view to your left hand side, further more please contact our office to discuss your project requirements and to obtain a competitive quote.