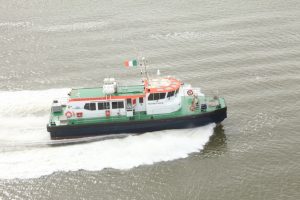 Fastnet Shipping Limited is delighted to announce the recent introduction of MV Fastnet Rock to their growing fleet of support vessels.
Fastnet Rock is the 3rd Addition to enter Fastnet Shipping's fleet inside the past 12 months coming in after Fastnet Puffin which was launched in February 2013 and Fastnet Skua which was launched in April 2012. The addition of Fastnet Rock now brings Fastnet Shipping's total fleet of Windfarm Support Vessels, Tugs, Jack up Barges and Pontoons to over 22 various vessels.
Fastnet Rock is a 22m LOA BV Classed multi role catamaran which can transfer up to 27 passengers in her current configuration and is classed by Bureau Veritas for unrestricted worldwide trade up to 200nm.
Fastnet Rock boasts a large and spacious air conditioned lounge for her passengers and includes 27 aircraft type seats with large tables, a passenger entertainment system and a large galley. Owing to her large passenger carrying capacity Fastnet Rock is ideally suited for a site feeder role allowing the smaller capacity vessels to remain onsite longer without spending precious time transiting from the base port to site.
When not working in a crew transfer role Fastnet Rock is ideally suited to Survey Work as she features a very large moon pool on her foredeck and within her bridge she features has a dedicated area for the survey directors – whom can also relay data direct from their workstation to the Master at the helm position.
Fastnet Shipping Limited is a Multi-Disciplinary marine plant and vessel hire company specialising in Wind Farm Support Vessels, Crew Vessels, Jack up Barges, Harbour and Coastal Towage, Marine Project and Logistics support.
For Further Details about the vessel or to charter her or any of our Fastnet Shipping Fleet please contact Fastnet Shipping on +353 51 832946 or email us at info@fastnetshipping.com