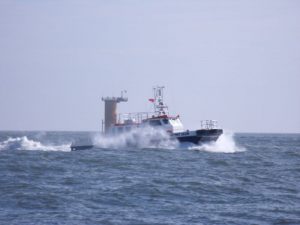 Leading Independent Marine Plant and Wind Farm Support Vessel Operator Fastnet Shipping Limited announce the launch of their 3rd Windfarm Service and Support Vessel "Fastnet Skua" bringing their total fleet of Windfarm Support Vessels, Tugs, Jack up Barges and Pontoons to over 22 vessels.
Fastnet Skua is a bespoke 14m x 5m multi role vessel capable of transferring up to 12 passengers and is licensed by both the MCA and the Irish Department of Marine for Passenger and Workboat Use.
Fastnet Skua is powered by twin Cummins QSC 8.3 500hp Engines, and has successfully achieved 28 knots during sea trials.
Fastnet Skua's compliment of navigation and communication and bridge electronic gear includes:
2 x SIMRAD LVR880 – Fixed DSC VHF's – Both with load hailers and foghorns. (Independent GMDSS installations)
1 x ICOM M505 – Fixed DSC VHF (Independent GMDSS installations)
2 x ICOM M33 Handheld Waterproof VHF's
1x Simrad 6kw Open Array Radar,
1 x 4kw SIMRAD 3G Radome
2 x Simrad NSO Multifunction Chart Plotters,
1x Simrad 0.6kw Standard Dual Frequency Sounder / Transducer,
1x Simrad 1kw Structure Side scan Sonar / Sounder / Transducer,
1x Simrad AP35 Autopilot,
1x Simrad IS20 Wind Sensor + Display,
1x Simrad IMO Class A AIS Navigation System,
Simrad MX575 Satellite Compass,
Simrad Standalone IMO GPS System
Sea Marshall SAR finder 1003 Mk II MOB locating unit
Full Vessel CCTV System
In addition to the above features Fastnet Skua also features a 750mm x 750mm moon pool , gas suspension seating for all passengers, a Proven and interchangeable Turbine nose fender docking connection and a Hydraulic power pack.
Fastnet Skua can also carry up to 3000kgs of Cargo and has large forward and aft cargo and laydown areas.
The 1st of and order of two new vessels the "Fastnet Skua" went straight to work on the Lincs Windfarm off Skegness and will be stationed in Grimsby for the Duration of her contract, the 2nd of the two new vessels "Fastnet Puffin" will be launched and operational in Q3 2012. All vessels are dually certified by both the Irish Dept. of Transport (P5 Licence) and the MCA (Cat 2 60 Miles).